Online businesses are running successfully by communicating exactly what they deliver through their product descriptions. When a user visits a website, he or she needs just a few milliseconds to form an opinion about your business.
If the website fails to express key features and benefits of a product at the very first glance, the user will already be at the door leaving, my friend. So, let's all agree here that good product description has a significant role in reaching higher conversion rates.
Getting a rocket high conversion rate is the ultimate goal of every online business. No question about it. Yet, there are many different factors affecting your conversion.
Some of them you can directly control, so, jump right on the business.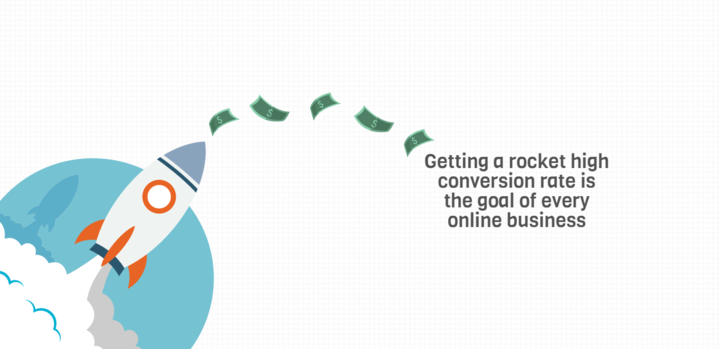 Like, for example, writing amazingly good SEO friendly product description.
This would set forth the most relevant features and make it understandable to your target audience, and crystal clear to potential customers. How exactly your product can make their lives easier and better? Tell them.
Business managers and marketers carefully plan this. It is a technique and a thing of experience. Content about your product on your landing page has to be perfect and well-measured.
Of course, eCommerce websites are free to select a format for the product description. It can be a plain landing page with all the information listed at once or separated in tabs for easier manipulation. Whether you're using WooCommerce or any other application, you can easily look for some valuable product details in tabs.
The WooCommerce Custom tabs pro is one of worth mentioning tools that allows you to categorize useful product information in different tabs, thus beautifying the landing page.
Aside from displaying product description, what else should be in the center of your attention?
Yes. Content creation.
You can do a lot of creative handwork by yourself, but some apps can come in handy.
Believe it or not, there are numerous applications that either write content for you from the scratch or spin existing text and make is unique. But, let's face it, it is machine written. It doesn't have emotions, desired tone or approach to attract someone to try your product or service.
Result: No orders.
And you don't want that.
But how software can be used to write product descriptions?
Apps are everywhere.
We use them when we need to communicate, to remind ourselves to water the flowers, to find out what cool song is that and even to simulate blowing candles on your cake, goddamnit.
But for most of the time, apps are making things in our lives much easier and faster.
When it comes to content writers, software is used to create flawless copy that would be good for both users and search engines.
Humans and machines.
There is a bunch of applications for writers out there, helping them either at the stage of composing a sentence or making it completely typo-and-grammatical-errors-free.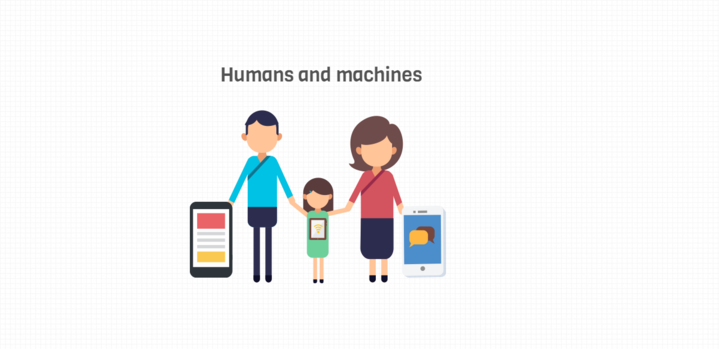 Writing, rewriting, and scraping the content
Writing is associated brainstorming about a topic or product and coming up with amazing taglines and descriptions. Without any doubt, readers still like to read the content written by flesh and blood humans, not by the bots. In general, writing is more about emotions and realities rather than plain and random text on the internet.
Applications can generate a piece of content by evaluating a keyword, but it certainly can't understand the needs of your targeted audience.
Copywriters, who are still on their writing beginnings and often lack inspiration, can try Articoolo. For example, if you enter a keyword "Armani Women Jeans", it will draft a general paragraph about it. However, the perfect description needs more than a generic stream of words. You'll need deeper product insights.
Besides from making content around a particular keyword, you may also find rewriting and scraping tools like Spinbot or EZrewrite.com quite helpful. These applications rephrase a paragraph and give it the impression of a brand new piece of content. Using such paragraph may attract a number of visitors from the search engine, but will fail to deliver a proper message of the product or service.
So, try to write your very own and original content and just refine it with mentioned editing tools.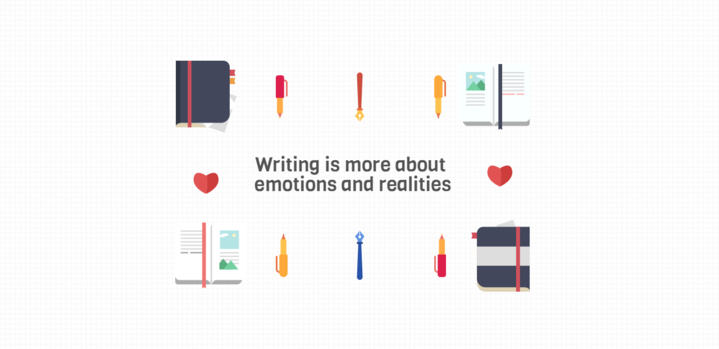 Editing, proofreading, and finishing
The first draft of a product description is a mix of its key features, and most of the times it'll need further editing and finishing. As an experienced writer, you are well prepared and quite familiar with terms that have to be used in writing for a specific topic. Should I mention that for SEO friendly product description, accurate grammar and sentence structure are an absolute must?
Content writers, of course, are welcome to use editing and proofreading tools to remove typos and errors. Widely available tools for this job are Ginger, Grammarly, Correctica, etc.
hile above-mentioned apps may not provide you the ultimate solution or completely accurate English, they do a quite good work in highlighting most of the major mistakes. So, let's say that those apps could be used for first product description draft that saves time and paves the way for the editorial team.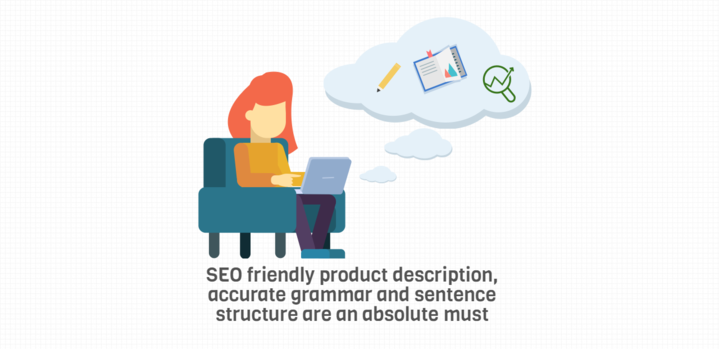 Readability and SEO friendliness
A fine selection of words you use in your content truly matters. Especially when it's readability and SEO friendliness comes in mind. The content marketers widely use Hemmingway app or real-time content analysis tool by Yoast to find how much their content (product/service description) is readable.
What these apps actually do?
They simply replace complex words with easier ones. That way, your written content would be a lot easier to read and understand.
Also, readability is a huge factor in making your piece of content SEO friendly. Search engines like Google, Bing, DuckDuckGo tend to rank a web page higher if it has easy-to-understand content. You can pursue a higher readability score to ensure everyone gets the message easily.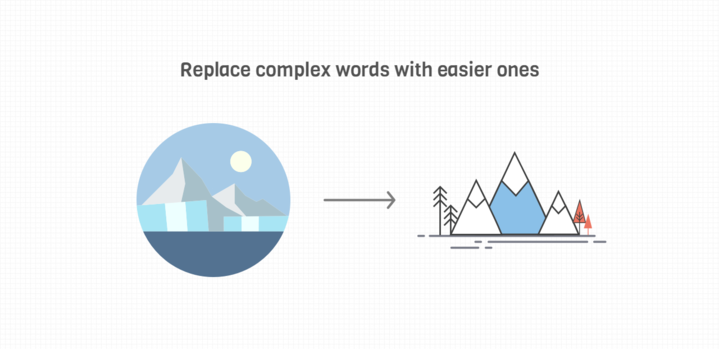 Final Thoughts
Writing a product description is a process which goes through different phases: understanding the basics, evaluating the key features and the purpose, and it's target audience.
In terms of writing, in general, different software can be used as it completely depends on the purpose of writing. But, product description writing is a whole lot of technical information, where every feature needs to be in a logical sequence.
For such work, you'll need an experienced and vigilant writer, because missing any of the unique-selling-point in the description may result in a higher bounce rate. Once the content is created, writers can utilize the above-discussed software just to remove the errors and refine it for perfection.
Paul Simons is an experienced digital marketer with expertise in UX design consultation and conversion optimization. He has an experience of more than 7 years in understanding the key elements in boosting sales of different companies. Currently, he is working as a marketing team lead in FMEAddons.