While blogging capitalizes on one's writing skills, it's not all about words. It needs a small level of visual element that follows the same rationale why books need pictures as well. For both blogs and books, images can get readers' interest, as well as give their mind some time to recover from taking in a lot of words. Images really are important so it's best to include them in your blogs.
Here are 10 actionable ways on how to include images to your blogs:
1. Use images with faces.
Faces are interesting subjects and would definitely get the reader's attention and keep it for a while. We are also predisposed to look at faces more than any other visual image so photos with faces are great to put on blogs.
In your About section, it's great if you can place your picture, or if you are a team of bloggers, the whole team.
Be careful though at where to put photos with faces. Studies on eye-tracking show that humans tend to follow the direction where a photo with a face is looking at. So in cases where the image you have is facing the right, it's best to put the image on the left and the text on the right.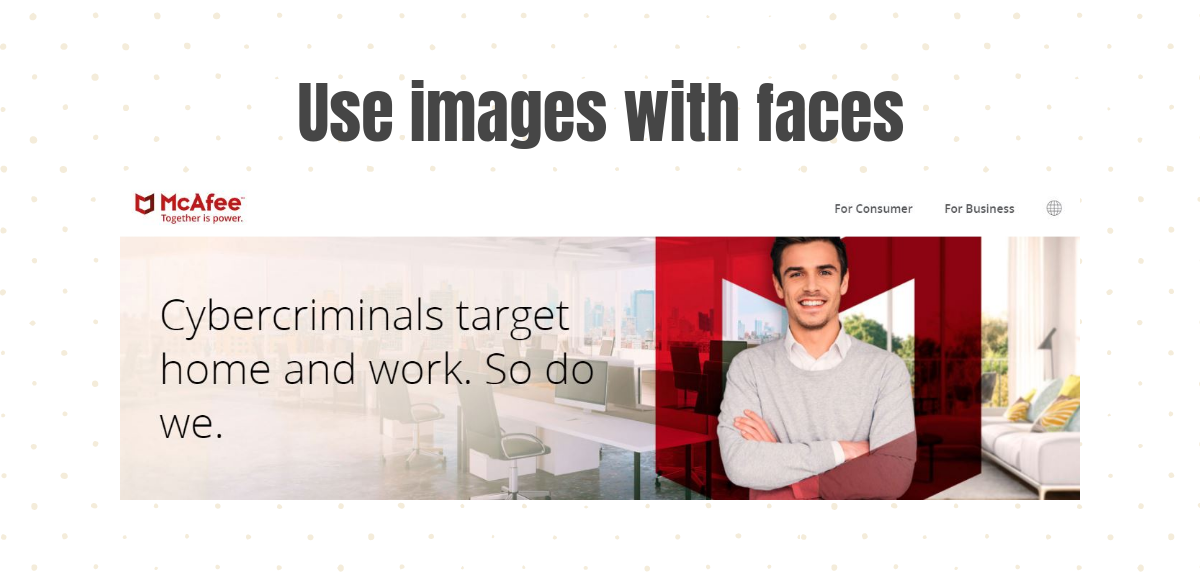 2. Memes are also effective in conveying information and humor.
Memes are certainly things of the modern-day. They bring humor and are definitely appreciated in the online world. You can make use of popular memes or you can make new ones. Just remember to use appropriate memes. Stay clear of memes that might be offensive.
3. Optimize image sizes for your blog and social media sharing
You must consider that almost everything needs to be shareable now. Ensure that your images from your blog and ready to be shared on social media. Make sure, however, that your images are of great quality, and are worth sharing. Sprout Social has prepared an always up-to-date guide on social media image sizes. Refer to this blog post to check the optimum size that you should use for different social media channels.
4. Use diagrams for visual representation
Screenshot taken from Oberlo's how to hack Instagram blog.
Diagrams are very helpful, especially if you're talking about a lot of numbers. You may use graphs and charts as you see necessary. Instead of boring the hell out of your readers, use these kinds of diagrams as you see fit.
5. Use infographics for data-laden posts
If you went even further down with research and got a lot of substantial data, you might need to use infographics. Infographics are usually independent, making them very shareable on their own. Craft a decent-infographic but still try to come up with text to explain it. However, ensure that your infographic can truly stand on its own.
6. Leave a mark with quotes.
A lot of quotes, instead of being written, are turned into images. The quotes are still in words but are in the form of an image instead of being part of the text of the blog. This makes the quote more memorable and allows for being shared.
Doing it this way helps the quote stand out more. This is also best for announcements, or some other text that needs attention but doesn't exactly have a photo or image equivalent.
7. Screenshot images as an alternative to videos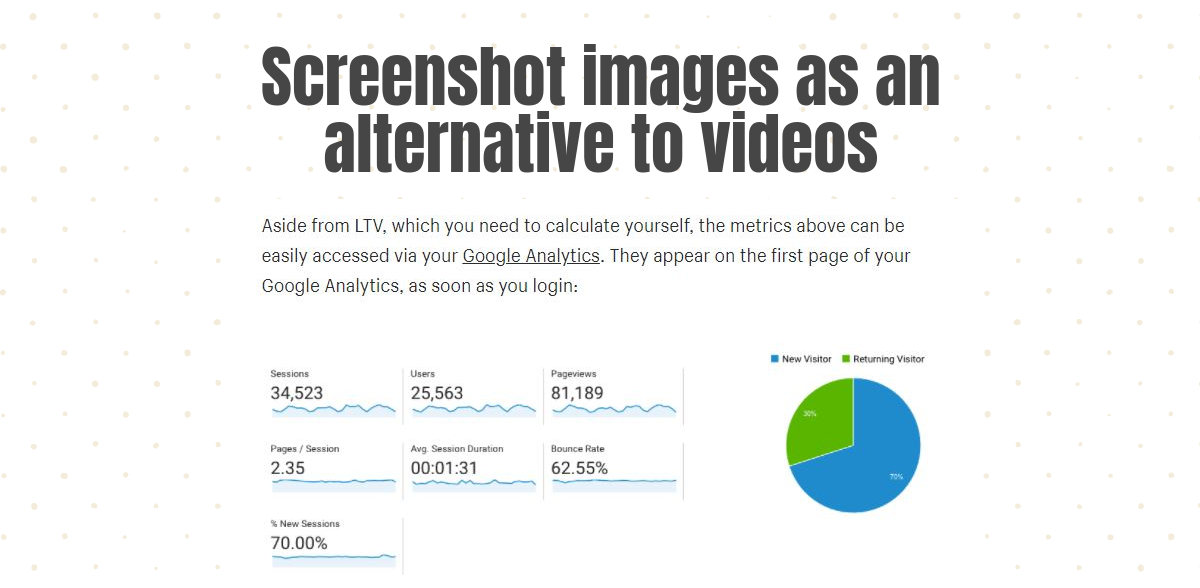 A screenshot from Shopify's Ecommerce Analytics guide.
Especially when coming up with instructive blogs, screenshots can serve as an alternative to videos. Videos would have been a good choice but not all platforms would allow videos. Videos would also need little to not text so as far as blogs are concerned, going for screenshots of step-by-step instructions is the best way to put it. Sometimes, videos take time to load, so using screenshots is an easier alternative, as shown above. Screenshots give readers a more concrete idea in just a sec. It's also easier to believe in screenshots than written words or infographics.
8. Use more images in the post for "rebreather"
A lot of readers just scan through blogs. Images can help keep this kind of audience interested. It's really just like for books too. To make them interested, put pictures. This is especially true for long blog posts. You'll need pictures to make them stay and read the rest of the blog.
9. Establish your own style and implement it consistently.
There's a lot of ways you can use images on your blog. You can actually use it as your own style. It may be on the kind of images you use, or it may be that you use a specific character as your images. It really depends on what you aim to use, and how you want your audience to recognize and remember you. For example, if you're using flat images, stick to it. If you're using vector art or isometric images, consistently use it in your blog posts. Check out how AltusHost content marketing crew create their own blog post featured images. There's consistency in the style of designing their images.
10. Stuck with no images? Go stock.
With everything mentioned above, you might be wondering how you'll source all these images for your blog. If you do not have a gallery of your own, and you do not have the time and resources to take photos as you need them, then you can go with stock photos. There are lots of stock images around, just dig in, so you can find decent-looking ones. This might be a challenge, but this is the best you've got. Using stock photos is still better than having no image at all.
Bonus: Don't get yourself sued!
There are lots of good photos on the Internet and you might be tempted to use the best one you can find, but not all photos can be used without the permission of the owner. Some companies make use of tools that scan the web for sites that use their images without permission, and then you'll be asked to pay.
To save you from being sued, do not use photos that are bounded by usage rights. Google Images have an option to filter out such images. Flickr also has a filter of images without a Creative Commons license – an indication that an image is free for use.
The use of photos in a blog is great, but not when you'll be sued for it!
About the author: Erin Feldman helps companies create value with analytics and data science by improving business performance, increasing revenue, reducing cost, boosting profitability, and increasing customer satisfaction. She owns her own online store located in California, USA. Her vision is to help small to medium businesses set up their own predictive data analytics, that will tremendously help their online efforts in marketing, revenue generation, and beyond.