In the world of today, everything happens very quickly. People get many things done on their smartphones, and marketers are no exceptions. When the action is required right away, the best way to go is to work on the go. That's why mobile apps are so irreplaceable – they'll allow you to work even when away from the office, save valuable time and respond to everyday challenges much more efficiently. Although some tasks, such as writing your blogs or social media posts, can be outsourced, others just need to be monitored and taken care of by you. When it comes to the best app, every marketer has some they can't live without, but here are some that we think you'll find the most helpful of them all…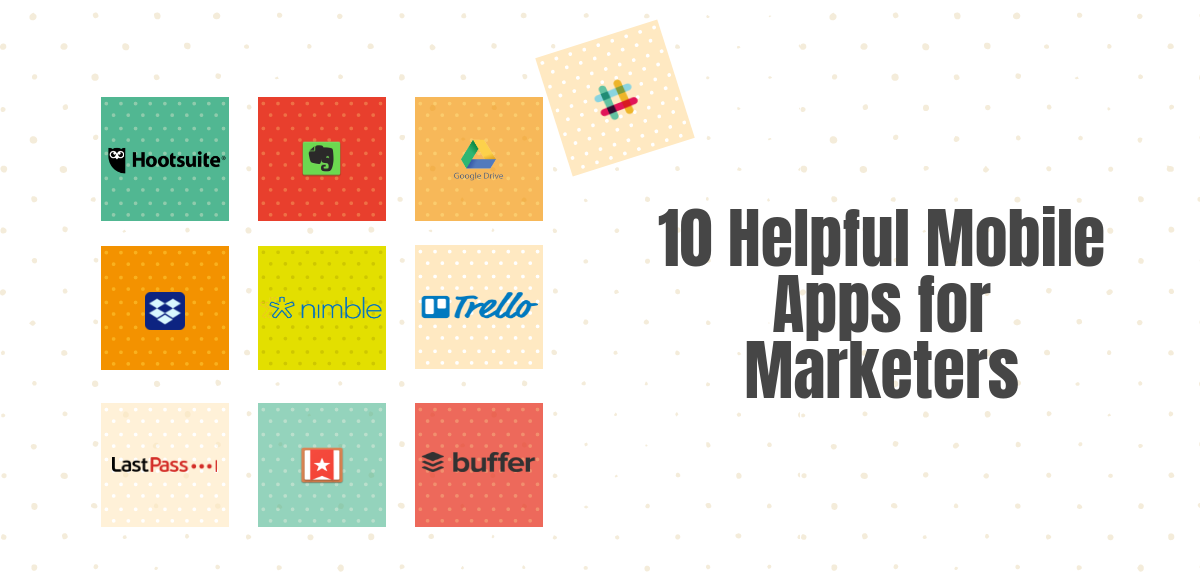 1. Trello
Staying connected to everyone on your team can sometimes be really difficult – especially if you don't have the right app. Behold Trello, allowing you to stay organized, structure your work, track your project, see your partners' schedules, and much more. It's super easy to use and has lots of handy features to ease your working day. It's a real must-have for every marketer.
2. Slack
Keep your communication simple and your team coordinated with Slack. Create team group chats; message your stakeholders or even your clients. Keep your business conversations out of your inbox and always know where to find the people you need. It offers endless possibilities for different businesses; all you need to do is start using them.
3. Evernote
This awesome app has everything you could ever need when it comes to note-taking. Capture your notes instantly, have them immediately sync with all of your devices, and never worry if you're accessing the latest version. Save photos, to-do lists, documents and much more with Evernote keeping you always up to date. It's also great for sharing with your team, so it's the full package.
4. Wunderlist
Another great app for all those who depend on their to-do lists, Wunderlist will really provide a unique experience you'll easily get used to. If you like having everything well organized and keeping your team members up to date with all of your plans, this is just what you need. If you want to always know exactly how far a project has gone, this is a priceless addition to your smartphone.  
5. Buffer
If you often find it difficult to manage your social media accounts and stay on top of everything, you definitely need Buffer. It will allow you to monitor your Facebook, Instagram or Twitter profiles through a very simple dashboard, schedule posts, and analyze the performance of what you published. With lots of great features, it's one of the best apps for social media managers out there.
6. Hootsuite
If you want to know how well you are rated on social media, how much your followers engage with your posts, and what their reactions are – all in one place – Hootsuite is the app for you. Supporting over 35 social networks (do you even know that many?) and showing all the data on a very easily manageable dashboard, it's the right choice for measuring your impact online.
7. Nimble
This awesome and very powerful contact manager will accumulate all the information you have about a person, and all of their social media profiles, in one place. You can sync all of your contacts and build a much stronger online relationship with the help of this excellent tool. Make your digital communication easier and faster, thanks to Nimble and its great features.
8. Dropbox
Allowing you to store all of your important files in one place, sync them over all of your devices and share them with your co-workers, Dropbox is a must-have for every marketer. Use it for photos, videos, tasks, schedules or any other type of document and be sure you'll be able to access them anytime, anywhere.
9. Google Drive
Similar to Dropbox, Google Drive gives you a great system of storing everything you need for your business in one cloud and making it available for all of your team members. Additionally, it allows you to edit them and share them, and you can access them even when not connected to the internet. As usually, Google has your back.
10. LastPass
You know how easy it is to lose your password, especially if you have hundreds of them. You probably also know how horrible it would be if it happened – so, make sure it doesn't, by using LastPass. With a strong master password, this great app will keep all of your passwords safe and stored in one place – no worries about searching for that one secret code through hundreds different files and notebooks.
You probably already have some apps that you just can't work without. However, we're sure that using some of the apps we mentioned, you'll be able to stay on top of your tasks, stay organized, connected to your team and synced. For a marketer, that is crucial – so, use your options wisely.
About the author: Being a contributor and freelance writer, Laura Buckler takes a thorough approach to all of her articles. Her amazing knowledge of social media and digital marketing place Laura in top ten content writers in the country. Follow her on Twitter.