Whether you are looking to set up a website, reserve an address for future use, or make an addition to your domain portfolio, it is essential to find and choose the right domain name. Certain domain names can become a highly a coveted commodity (and their price often reflects this) but in principle, any domain name can become both valuable and popular with good content and a strong branding strategy to back it up. With that being said, there are a number guidelines you should follow to improve the quality of your domain name. And in the rest of article, we will provide you with a handful of such tips and tricks.
Find a Memorable Name
One of the original design features of the domain name system was to translate the numerical IP addresses into a format that could be more readily read, typed, and memorized by humans. And the same kind of logic applies to your choice of domain name. To find the right name, start thinking of it in terms of a brand.
1. It should be unique, in order to set you apart from competitors.
2. It should be easy to memorize, so avoid using complex word-letter combination.
3. It Should have an unambiguous pronunciation, so its easier to vocalize.
4. it should sound trustworthy, which means you should avoid using terms that are associated with pornography, gambling, etc.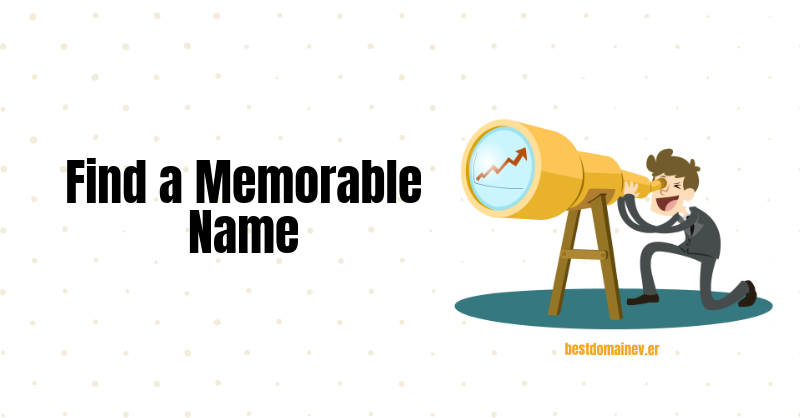 Include Keywords if Possible
Humans are not the only ones who will be trying to parse your domain name – there are also search engines to consider. When trying to determine which websites are relevant for a particular search query, search engines will compare the domain name of a website to entries in its keyword database to find the best match. Therefore, if your domain name contains commonly searched-for keywords (and your website contains content associated with those keywords), it will have a better chance at appearing on relevant search engine result pages. Google's Keyword Planner can be used to determine which keywords are relevant for a given line of business, so make sure to give it a go before settling on a domain name.
Choose the Right Name Extension
Your domain name will always include a top-level domain name extension. The Internet Corporation for Assigned Names and Numbers (ICANN) delegates the responsibility for managing top-level domains to specific organizations. There are three main types of top-level domains: country-code top-level domains, generic top-level domains, and infrastructure top-level domains.
Your main choice with regards to the top-level domain boils down to going for a generic extension such as .com or .net, or a region-specific one such as .fr or .it.
While the latter option might potentially provide some search engine optimization benefits, the standard choice is to go for a .com top-level domain, if possible.
Work With a Reputable Registrar
Before you get the opportunity to register your chosen domain name, you will first have to see whether it is available. This part of the process is accomplished through a domain name registrar service. Domain name registrars have to be accredited by a generic top-level domain registry, or a country code top-level domain registry. Some domain name registrars also offer hosting services, or vice versa like we at AltusHost do.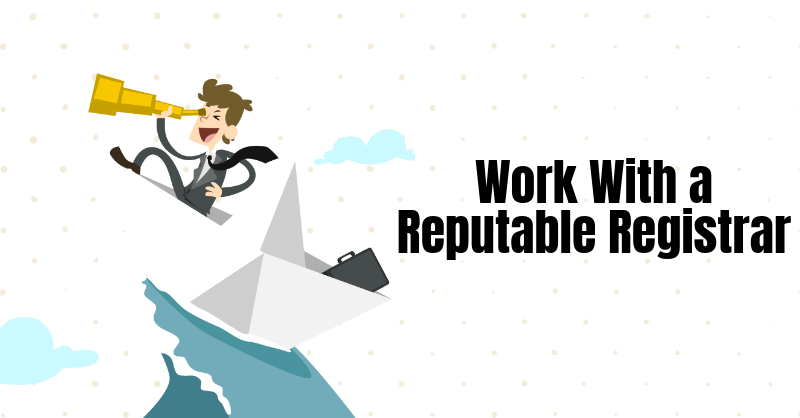 Look Into The History of a Domain
Domain frequently have a history of previous use, and if you are trying to register such a domain, it is recommended that you get intimately acquainted with it. Having a past get sometimes work in your favor. For example if the domain previously had a good standing with search engines, your website will inherit the boost in SEO. However, if a domain has a spotty track record, it can cause your more harm than good down the line. To audit a domain, you can use a service such as who.is, which will give you all the whois data associated with it. You can see what the domain's history is, when it was registered, and how many times it changed hands.
Of course, auditing a domain can get tricky if you are not deep into SEO yourself, so it is advisable to seek out a professional or an agency to do it for you. This, however, is not an easy task since there are so many of them. It is therefore advisable to go through a list of digital agencies beforehand to ensure finding the best one for your particular needs.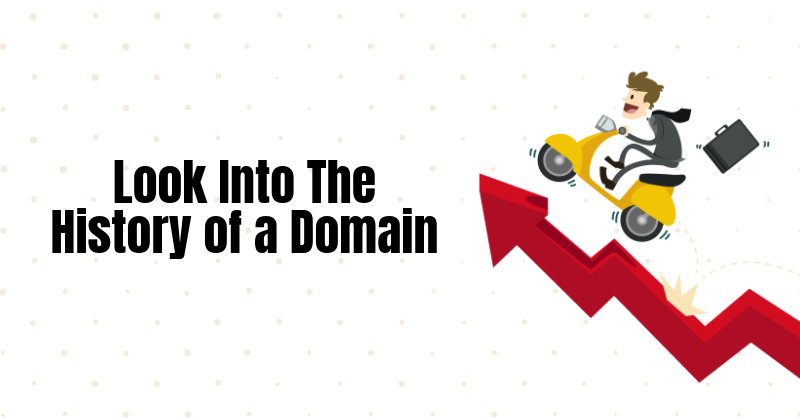 Auto-Renew The Registration
In general, when you register a new domain name, you will get to choose the duration of registration period, i.e. the time span during which the registrar will keep the domain active. Registrations are commonly purchased for the duration of a year. After this period is over, you will have to renew your domain name registration. Otherwise, your domain name will becomes inactive, and after a short while, it will domain go back to the pool of available domains, which means other parties will get a shot at registering it. For this reason, it best to enable automatic renewal for your domain, as this will ensure that you won't lose control as a result of negligence.
Be Careful With Your Selection
Purchasing a new domain is relatively straightforward process at its core, but the devil is in the details. There are a handful of factors that you should always consider before committing to a purchase, and we hope that you now know a bit more about them as a result of reading this article.
Thanks for reading!
About the author: Larry Reed is a tech writer with DesignRush – a new B2B marketplace connecting brands with agencies. Larry has several years of experience in creating content for the web, usually on topics centered around web design and development. To stay updated with Larry's latest posts, you can follow him on Twitter.