Conversions represent the very essence of marketing because they are proof that marketing really matters. The term "conversion" defines a percentage of a group of website visitors that performs desired actions, and this actually adds more value to your business overall.
It is a well establish methodology of modern marketing with a goal of making a design or system that you are using as effective as possible. There are several ways to measure the conversion rate and unlimited ways to achieve the desired outcome. Here are some guidelines to improve your conversion rate.
Best On-Page SEO Practices
There are numerous strategies that you can use on your website today to bring more search engine traffic from each piece of content you publish:
•Make URLs short – The first few words in a URL have more impact on the Google search algorithm, and you will get more credit.
•Make sure to use keywords in your title – The best practice is to use a keyword at the start of the title; if you cannot think of such title, make sure to put the keyword as close to the start as possible.
•Define headings in your HTML code – Some CMSs out there do this automatically for you. But, it never hurts to check your code and see if you have at least one <h1> tag on each html page of your website. This tag defines the most important heading and it can go up to <h6>, which defines the least important heading.
•Utilize the usage of keywords – Make sure to drop a keyword in the first 150 words of your article. This way, Google will know what your article is all about. A good practice is to use your target keyword in at least one subheading; these ones you can wrap in the <h2> tag. You should make sure that at least one image file name has your target keyword and that keyword is also part of that image's Alt Text.
•Optimize your website so it's mobile-friendly – If you want to drive more traffic to your website, it has to be optimized for mobile platforms, as it is optimized for desktop use. Google prefers Responsive websites; there is no better incentive than that.
Stepping Up Your SMM Game
There are a few basic things you can do to boost your social media marketing efforts:
•Target marketing – Layering your targeting options can prove very powerful when it comes to making better conversion rates. Compiling demographic data can provide you with an idea on how to plan a relevant campaign. Knowing all the data from the previous purchases made can help you launch perfectly targeted ads for a narrow and relevant audience.
•Increase Relevance Score or Quality Adjusted Bid of your ads – This can be achieved by using the best converting ad copy from your PPC ads. If you didn't launch a PPC social campaign, you can always go with a picture/ad that you used in any form of marketing; the best choice is the one that is most recognizable to your customers.
•Start using hashtags – Hashtags are very useful when it comes to helping users find relevant content, but hashtags can also be used to build communities of brand advocates and loyal customers. The idea is to use the same hashtag across all social media platforms because, this way, you will be offering the same experience, regardless of the place your customers may be browsing from.
Creating the Best Landing Page for Your PPC Campaign
The sole purpose of a landing page is to entice the viewer to take action. That's why creating and optimizing a landing page is very important. Here are a few useful tips:
•Consistent keywords and phrases – You can lose a lot of customers if you don't give them what you've promised. Relevant information on your landing page boosts your ads Quality Score.
•Work on trust – If you add social media motions and media coverage, you can build your brand's much-needed reputation so that people start trusting yours adds. Building more trust can be achieved by adding social media buttons on a landing page. Before deciding, people may want to look you up on social media; by providing them with this option, you can easily get their trust after they get the information from your social media profile.
•Optimize your landing page – Landing pages are some of the most effective pages to test. Testing and optimizing your landing page directly influences conversion rates because it is the stage in the campaign funnel that is most vulnerable to abandonment. Consult Google Analytics and check your Bounce Rate and Average Time on the Page to estimate your engagement score.
Writing Killer Emails that Grab Attention
Writing compelling and catchy emails is certainly going to help you get some loyal customers, but there are a few things you need to be mindful of:
•Segment and targeting emails – You want the person who receives your email to assume that it is about something they are actually interested in. Segmenting email lists is not a difficult task and it can greatly increase the click-through rate. Segment your emails by gender, job title, shopping history or location.
•Come up with a compelling email title – This is the first thing you see, and therefore, the deciding factor. The subject of the email should clearly state what is included. Make sure that the title in the mail body stands out from the text. Add some color or simply bold the font.
•Implement welcome/reminder email – Send an email to a new subscriber to thank them for signing up. Make them familiar with what to expect and how often they will be receiving an email. Coming up with special offers for new subscribers as a special reward is a good way to increase conversion rates. Make sure that you understand the customer's buying cycle, since this will help you time your email before they decide to renew or unsubscribe. Always make it easy for them to renew by including a link in the email.
Providing Valuable Content When Guest Blogging
There is an art and a science to guest blogging, and you'll need to keep the following points in mind if you want to use this tactic to your advantage:
•Finding just the right place to guest post – Before you start, you should find out which blogs your target audience visits. Spend some time reading popular blogs, so that you can get an idea of where to guest post. Getting familiar with  the readers' interactions can help you in this task.
•Coming up with the right topic/content – This may prove to be the hardest part of all because you need to provide value to the reader and appeal to the publisher. Avoid looking like you're only there to sell something in the process of linking the article back to the content you are trying to promote. The type of blog you are targeting determines the topic you will select. Staying flexible is important and it can ensure that both you and the publisher get something out of the deal. Keep in mind that you are creating quality content for their audience. Search for the most popular and most commented articles on their blog to get an idea of the topics their readers are interested in.
•Positioning of the link – Providing a link at the end of the article can prove better because it provides better quality leads.
•Making the most out of your best-converting guest post – Always explore more ways of pushing additional visitors through the post. Inform the visitors of your website that you are publishing on an authoritative website.
Micro-Commitments
Micro-commitments represent a great way to optimize conversion rates. What they actually stand for are the means of persuading visitors to do something in exchange for what you are offering them. An everyday example is when some website asks you to share their link on social media so that you can continue accessing their content. To improve conversion rates, get your visitors to take action by asking them to provide certain pieces of information upfront, in order to gain access, a free trial or a monthly membership.
A/B Split Testing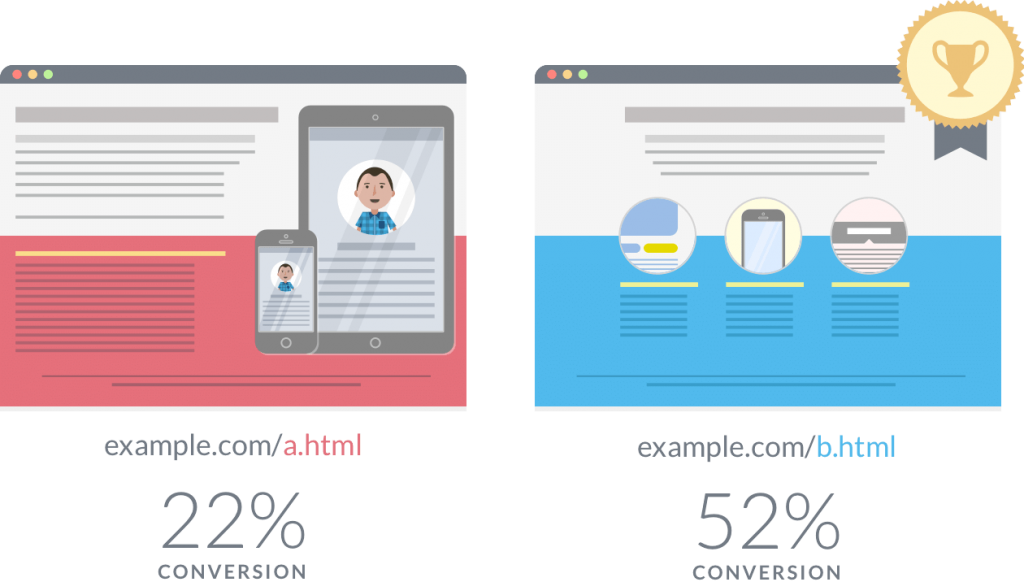 A great way to increase your website's conversion rate is by using split-testing software. An A/B split test  compares two versions of a webpage and gives you information on which one is performing better. It helps you understand your existing traffic better. You can test anything that affects a visitor's behavior: headlines, sub headlines, links, call to action texts, images, etc. You should always have at least one test running at any given time on your site.
Revenue is the most important success indicator. If you can increase the percentage of people who end up becoming customers through conversion rates, you will increase your revenue. This is why you should always keep your eyes open. Get familiar with the conversion rate on your website and the ways of improving it.