There are already 600 million blogs in the world right now, and this is no surprise that most of the catchy blog names are already taken.  
Naming your blog is just like giving a name to your child since that will ultimately be a part of their identity. Whether you're planning to write blogs as a hobby or you are a small business owner thinking your website needs a blog, you must have to go through the pain of choosing a unique blog name. And why not, your blog name is the first thing that your audience will know about your blog and definitely will create a first impression. 
But don't get scared. We have compiled some of the most used strategies to help you find a perfect blog name.
Tips You Can Use To Pick A Perfect Blog Name 
1. Stick With Dot Com
There are numerous new domain name extensions available like .pizza, .ninja, .blog, .photography, but we will always advise you to choose a .com domain name. Well, it is tempting for most of us to use new extensions, but .com is still the most reliable and credible domain name extension. Most users who are not tech-savvy will automatically type .com at the end of a domain without a doubt. 
2. What is your blog going to be about?
Before you start a blog in 2020, choose a niche for your blog logically. The answer to this question is straightforward if you are certain. If you are undecided, just think if you spend a huge amount of time picking a blog name and then go to a blog about something entirely unrelated, then you will have wasted your time for sure. Well, you won't be penalized if you don't stick to a single niche. But, the fact is most of the time your audience isn't going to be interested in things you like.  So, it's essential to be clear on what niche would be covered by your blog.
3. Be Clear About Your Audience 
Understanding the audience also influences the decision of choosing the blog name.  Blogs with a female target audience often choose names that include 'She', 'Pretty', 'Lady', 'Girl' etc. On the other hand, SPORTbible is an online community for sports lovers. As the name suggests, it frequently publishes content, including sports news, videos, and pictures.  
In simple terms, knowing your readers will help you choose an appropriate blog name.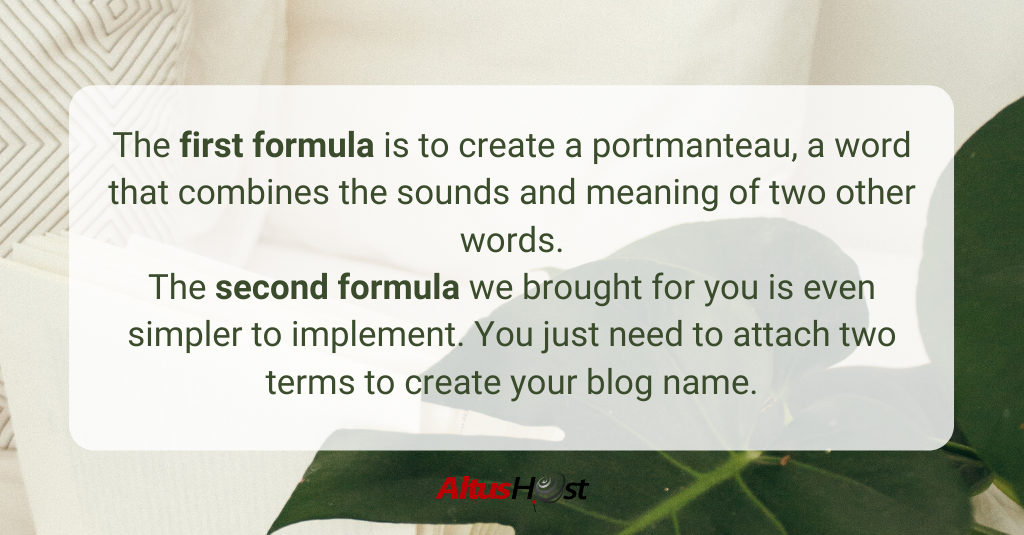 4. Keep It Short and Easy to Pronounce 
Ditch all the names that are hard to spell and say. It should be sweet and intuitive. At the beginning of the blogging career, most people initially didn't take much time to select a blog name and end up using a very complicated infrequent phrase. I can't name the countless number of situations in which a long and frustrating blog name handicap bloggers. The new visitors will forget your name, and it will be harder for people to type your name to recommend it to others.
5. Try Blog Naming Formulas
Luckily, we've got two simple formulas to create stunningly creative name suggestions or your new blog that your readers can't resist. The first formula is to create a portmanteau, a word that combines the sounds and meaning of two other words. You can combine two names to create a new term that speaks about your blog concept and brand values. A good example is a brunch which is derived from breakfast and lunch. The podcast comes from iPod and broadcast. The blogosphere comes from blogs and the atmosphere.
The second formula we brought for you is even simpler to implement. You just need to attach two terms to create your blog name. The first term should be representing your topic or audience group, and the second term should be serving your end goal. For instance, if your audience is digital marketers, and the end goal is high-speed results, then you can name your blog 'Digital Velocity'.
6. Listening to your friends and family
Asking around your trusted friends and family members if you are stuck somewhere. Tell them that you are in the process of choosing a name for your blog, and I am sure you will get thousands of ideas within the house. If you don't feel comfortable about opening up about your blog with your friends and family, then you always have a choice to ask people in the blogging community popular on Facebook.
7. Take Help From Blog Name Generator 
There is no harm taking help from blog name generating websites. They are plenty in numbers, and most of them are free. They'll help you come up with unique blog names. You just need to enter a few keywords and let the site work do all the magic. You can try the following most commonly used blog name generator websites.
     a) Wordoid
This platform can be fairly used for blog and domain name ideas. You just have to enter the keyword, set the language preference and quality rating, and pick where you would like the keyword to appear, and how long it should be.
     b) Panabee
Panabee is the coolest blog name generator in town that knows how to stand out in the crowd. You can search for plenty of domain names, app names, and company names. If you have a young audience, you must try Panabee because it gives you fresh and fun blog names based on the provided keyword.
8. Use Thesaurus
Before looking for help, don't forget to do your research. One of my favorite things to do is to use a thesaurus. Now definitely, you cannot rely on thesaurus compete, but you should consider it as a substitute. As a blogger, this is my most-used tool. I use it almost every day, and the reason is to make sure that my content looks different and attractive from the rest. You can also use the thesaurus for it as a source to get ideas for your blog name. You can get a long list of synonyms by entering your desired keywords.
9. Unrelated words
Under this strategy, you can choose a completely random name. Instead of using a thesaurus to find synonyms, you have to find out completely different names. Don't get confused. We are doing this because unrelated works work great when it comes to being catchy. For instance, who would have thought of blending a smartphone with a fruit? But, this is exactly what high-tech consumer technology company Apple Inc. did.
10. Just be yourself: Use Your Name
If you are willing to make yourself the centerpiece of your blog and write about your story, services, and what interests you, then you have a choice to use your name as your blog name. I've seen this trend lately in the personal branding industry, and it works successfully for plenty of lifestyle bloggers. But if you are writing a business blog, it won't work if you are selling a product.
11. Try Alliteration or Assonance
You can play around with words and give a natural rhythm to your blog using alliteration. It is basically the repetition of the same sound or letter at the beginning of closely connected words. In this strategy, you can use a combination of words starting with the same letter to create a catchy sound. Some great examples of alliteration are Cute Cats, Financial Freedom, Foolproof Formula, Spooky Spoon, Blazing Blogs, etc. The most satisfying thing about this fun strategy is that it is lovelier to say and can have a powerful impact on the reader.
12. Use A Different Language
If you find a unique name in another language, don't hesitate to use it as your blog name. We all come across words in other dialects that have very soothing to ears. Their meaning could be related to your selected niche or can be completely random, but they always set you apart. A foreign language blog will catch more eyes and evoke diverse brand perceptions. For example, The Small Café vs Le Petit Café has the same meaning, but they sound so different.
The foreign language name makes me think of baked croissants, fresh honey pancakes, and a strong cup of coffee.
13. Make a Common Saying Your Own
Many bloggers are coming up with a modified idiom or turn of phrase in a quest to give their blog a unique name. A very well-established beauty blog, 'She's in the Glow' has used the phrase 'in the know.'
Conclusion
Now we've shared so many tips and tricks with you, but the thing that matters the most when deciding on a blog name is that you should love it. Changing blog name in the future is a risky task, so put in the work now and pick a fantastic blog name that you will enjoy more with every passing day.
_______________________________