Let's admit it — Moving to a new website hosting service makes moving houses a lot easier, which is the reason why most site owners choose to live with the deteriorating quality of services being provided by their current web host. Right?
Many times, it's almost until they can no longer put up that they finally decide to invest their time and energy into switching to a new service provider.
Or some of these things start pilling up:
Suffering from constant downtime? Is your site speed negatively impacting your SEO metrics? Paying too much for a service that fails to deliver? Now might be the right time for you to start learning about the process and challenges associated with switching to a new web hosting service.
Switching to A New Web Hosting Service: Understanding The Process
Are you ready to make the move? It is likely that you will choose one of two routes: A web hosting provider with free migration services; or manual transfer of your database, files, and email accounts.
Perhaps the most preferred method for beginners and business owners looking for a faster switch is choosing a web hosting provider that offers free migration service. Many companies only require you to sign up for their services and simply add the request for migration. It is typically from there that their support team jumps in and handles the rest of the process in getting you set up.
Putting In The Manual Labor
For those willing to initiate and undertake a host migration on their own, you can compare and evaluate all kinds of web hosting service providers without restricting yourself only to those who offer free migration services.
While choosing the most effective method of migration can contribute towards a smooth switch to your new web host, there are several issues that need to be addressed before you begin.
It is only in an ideal world that we would get to experience a stress-free switch from our current, rather crumbling web host. Being able to experience an affordable rate, no downtime, and superb load times almost seems like imagining the perfect scenario.
Unfortunately, plenty of businesses often experience a hard time when looking for the right web hosting service or moving their site to its new house.
Here are five mistakes you should avoid making when switching to a new web hosting service and a detailed look at how they can affect your business operations.
Mistake #1: Allowing The Price Tag To Cloud Your Judgment
When changing web hosts, businesses are susceptible to losing visitors. However, your business is more likely to experience lower site traffic due to poor performance if you don't carefully evaluate your choices.
While the adage, 'the more expensive the better' is true for conscious consumption, things are not that simple when it comes to web hosting services – unfortunately. When choosing a potential web host, don't let pricing become the top-most influencing factor. Expensive plans are often made attractive by a bundle of features, but the extra cost is yet to be justified.
Similarly, cheap plans are easier on the pocket, but let's be honest, with a negligible price tag on a web hosting service, you're probably getting peanuts instead of quality service. Assuming that a hosting company sells both free and paid services, should businesses opt for the free plan with terrible customer support and no assurance whatsoever of a stable service and guaranteed uptime?
Businesses that settle for a free or cheap hosting plan in efforts to save cash often sacrifice a lot more in profits when compared to those that carefully evaluate their hosting options.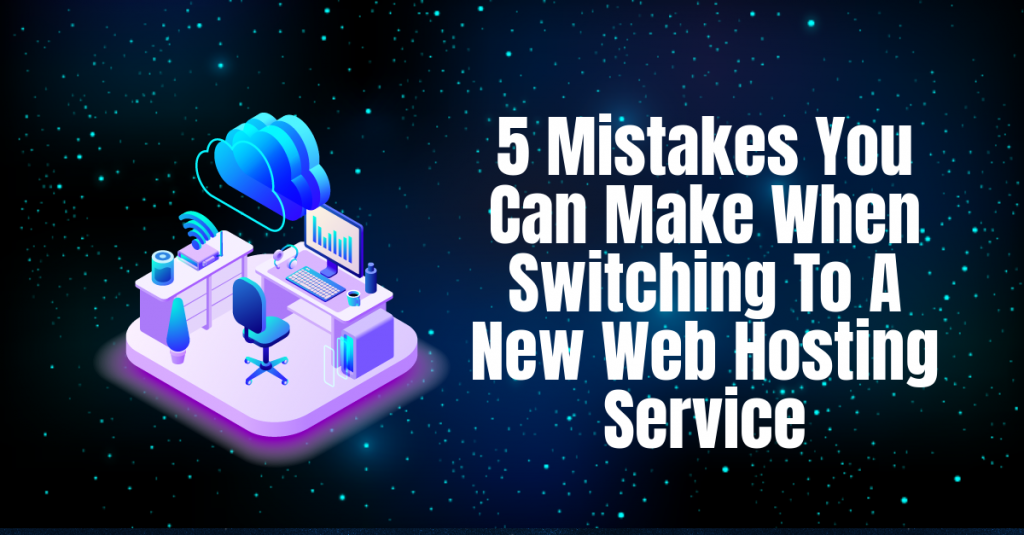 Mistake #2: Clicking "I Agree" Without Reading The Terms
Chances are, if you don't read the terms and conditions of the host you're signing up with, your business will land in some sort of trouble sooner or later. Chance for trouble multiplies with free hosts since they try to limit your resource usage through their terms.
It is also important to understand that most hosting services are backed by strict consumer policies. While some might follow a regressive way of charging the customers, others rely on a proportional or even progressive approach. Each hosting service provider has its own policies on data security and assurances against security breaches.
With a whopping 30,000 web sites getting hacked each day, and 86-percent of all websites experiencing at least one serious security occurrence — there are plenty of reasons for you to know exactly how your hosting service plans on minimizing risks and handling security-related matters.
Furthermore, the terms also include details on the host's refund policy. Having a clear understanding of your potential host's refund policy is crucial; given that some offer a full refund if you decide to end the contract for any given reason.
Mistake #3: Slower Hosting With Slower Page Load Speed
If your site takes longer than 3 seconds to load, you've already lost two out of five users. With speed being a major factor of productivity, the responsiveness of your hosted site can translate to big business. Research shows that improving loading times from 8 to 2-seconds boosts the conversion rate by 74-percent. At a macro level, slow websites cost the US economy alone, over $500 million every year; with just a single second delay decreasing conversion rates by almost 7%.
As per the facts, your web hosting package can make a huge impact on the page load speed of your website. A hosting service that fails to allocate dedicated resources may entail the sharing of your site's resource by more than one site, resulting in deteriorating load speed. As a critical SEO performance metric, this can result in a massive loss of potential customers for businesses.
Mistake #4: Adding On Domains & Risking Privacy
It is not unusual for hosting providers to offer their customers the flexibility of adding more than one domain under a single account. With a feature known as "add-on domains" in the cPanel, customers get access to a user-friendly control panel; allowing them to create and host several different domains under one account.
On one hand, this makes it easier for customers to manage and monitor a number of sites without having to pay hefty sums for separate accounts. However, this can create an insecure environment as multiple users gain access to all sites controlled by an account.
Mistake #5: Changing Locations & Affecting SEO
Wondering if changing your website host can affect SEO? As much as you wish it didn't, the answer is kinda Yes. The whereabouts of your website host play a significant role in quite a few ways; one of which is the management of your website's positioning on SERPs.
Back in the day, Google relied on Top Level Domain (TLD) to prioritize websites. However, recent changes to Google's algorithm have shifted the search engine's focus towards the IP addresses of sites to determine their location and relevance when a search is initiated.
To help you understand this better, it is important to note that any search made in a certain country will give priority to sites located in that specific country. Taking this into consideration, businesses located in, say the United States switching to a cheaper web host with its servers located in China are most likely to experience a negative impact on their search engine rankings in their home country.
The beauty of the Internet comes not only in the macro form of heightened connectivity, but also in THE micro sum of its parts; namely greater exposure, infinite opportunities, and accessible facilitation. By hiring and outsourcing to those passionate and experienced enough in areas where managements lack, businesses can focus on safely leading potential customers through their sales funnel instead of losing them trying their hand at technology.
To make mistakes is human, especially when undertaking tasks that are not in your specific domain. Time and again research have shown the risks businesses pose to themselves with difficult to maneuver, lagging websites. Negative effects to your SEO ranking, increased downtime due to DNS's lack of propagation, corruption of database, and even missing website pages and add-ons may be experienced if the redirecting of the web hosting is undertaken by someone less than proficient.
Why are these issues so serious? To sum it up, research by Skilled shows that 79% of customers refuse to go back to a website that underperforms while 47% expect a page to load in less than two seconds.
The maxim 'time is money' is really put into context when put into the context of website responsiveness. In terms of SEO, a one-second delay in a website's loading can entail an 11% loss of page views. The same delay can also decrease conversions by 7%, and an increase by the same amount can lead to an increase of $7000 daily.
As the discourse of business and marketing evolves with the assimilation of technology, the digital market seems to be experiencing Adam Smith's invisible hand of equilibrium. Those that have not been able to catch on with the methods of today have been removed, while those in the race should employ those privies at all times with the changing trends in technology and the impact they can have on your hard-maintained bottom-line.

About the author: Nikola Banicek is an internet marketing specialist at Point Visible, a marketing agency providing custom outreach and link building service. He's a laid-back guy with experience in PPC, copywriting, and project planning. When he's not working, he's either gaming, watching football or anime.