We should all know this by far:
Web hosting is the literal foundation of your website. Therefore, it's crucial to make the right choice (provider and web hosting package) from the start. However, if you're having trouble with your hosting and you'd like to revisit your options this article will come in useful as well.
There are tons of web hosting solutions and with each type there are various subtypes and hosting plans.
Sounds complicated, we know.
But be honest, it really isn't.
Yes, the whole process of making a decision can end up being very confusing for someone who is not at all familiar with the concept of web hosting.
Even though it is crucial to any web site's existence in the first place.
It's just like the air you breathe to live, but not every human being is fully aware of detailed chemistry of it. "It contains oxygen", and for most people, that's just about enough air knowledge they need.
Additionally, there are thousands upon thousands of hosting providers and choosing a good host is just as important as choosing the right hosting plan. A good host will help you run things smoothly and resolve any issues that may come up. Meanwhile, a troublesome host will actually create more issues than they are solving.
In this article we'll try to explain some of the main differences between Managed and Unmanaged hosting to help you make an educated decision.
1. Managed Hosting
Managed hosting means that the task of maintaining the server is, by all means, the responsibility of a host. It usually comes with additional services such as performance monitoring, security sweeps, backups, malware removal, customer support and others. The server itself already comes with an installed operating system and software like cPanel, Plesk, WHM etc. The host will also handle OS updates and SSL installations.
So in short, it's like having the technical side of setting up a server managed only for you. You just do you work and concentrate on business development side of the story.
A minor downside of managed hosting could be that it is more expensive than unmanaged, since you're are actually paying to have all the management done for you.
It is also worth mentioning, that some providers offer hosting that has been specifically designed to run WordPress to make your website run faster and be more reliable.
Let's have a closer look at the additional services that are typically offered.
Performance Monitoring
Well, this one is pretty self-explanatory. Your host will screen for any issues that may arise with your server and notify you before such issues actually happen, so you can contact tech support in time to fix them. For example, if your website is getting close to using up all the resources like bandwidth, CPU, RAM, storage you'll be notified.
Security and Malware Protection
No one wants their website to become the victim of a malicious attack or get infected with malware, since it can throw all your hard work out the window.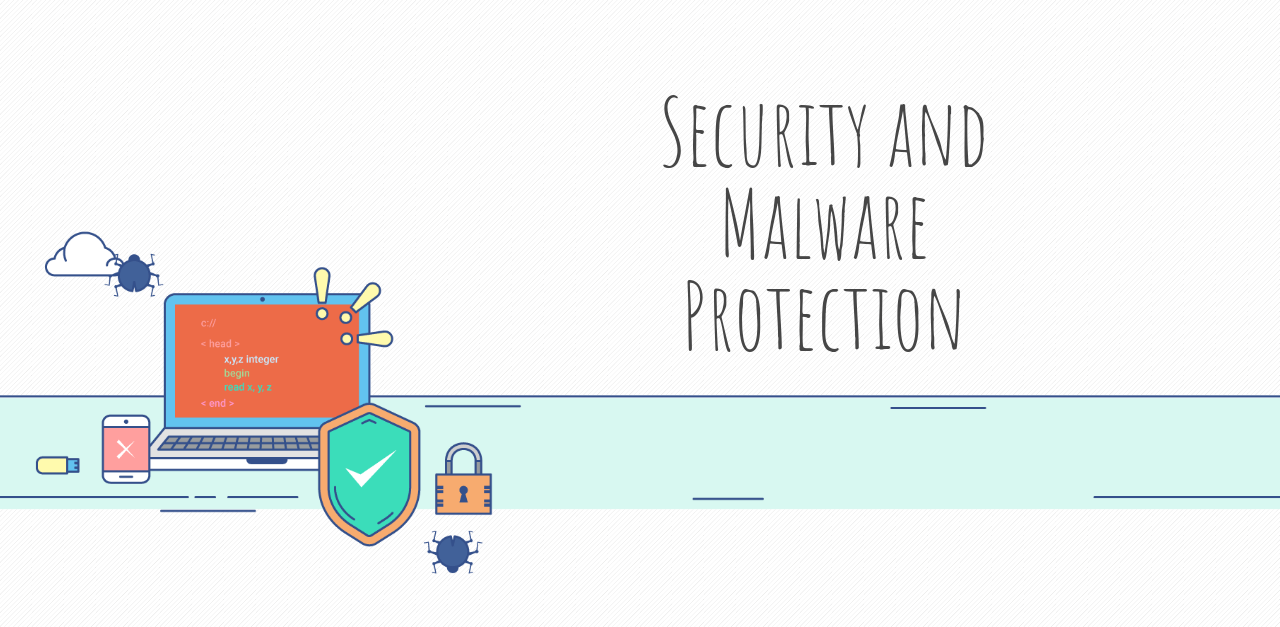 Your host will perform frequent sweeps to detect any attacker or malware and prevent any harm that may come to your website. Of course, it's impossible to guarantee absolute security and this service will largely depend on how good your host is.
Automated Backups
While it's considered to be an obligatory practice to create your own backups, managed hosting also provides you with an automated backup option. You don't want to suddenly lose all your data or have something go awry without any restore point to go back to. There are two important factors to keep in mind when choosing a managed hosting in this case.
First, make sure the backups are not stored on the same server as your website. What would be the point if the server goes down?
Second, the backup should contain your database. For example, in terms of WordPress, the configuration and theme can be recorded and reinstalled, but if you lose your database, you lose all your content.
Software Updates
OS and core software updates, including security patches are all handled by the host. Those are crucial to keep your server running smoothly and not be vulnerable to hackers. It takes a load off your shoulders, since you won't have to bother with the installation of all the frequent updates that come out. Although, it's not always recommended to install all the recent updates, since they might conflict with some applications. Unless you're using WordPress, it's something to be aware of.
Customer Support (24/7)
Whatever problems you run into, having someone help you solve them is always a relief, especially when it comes to the technical side of things. Usually this kind of help is included in your hosting plan.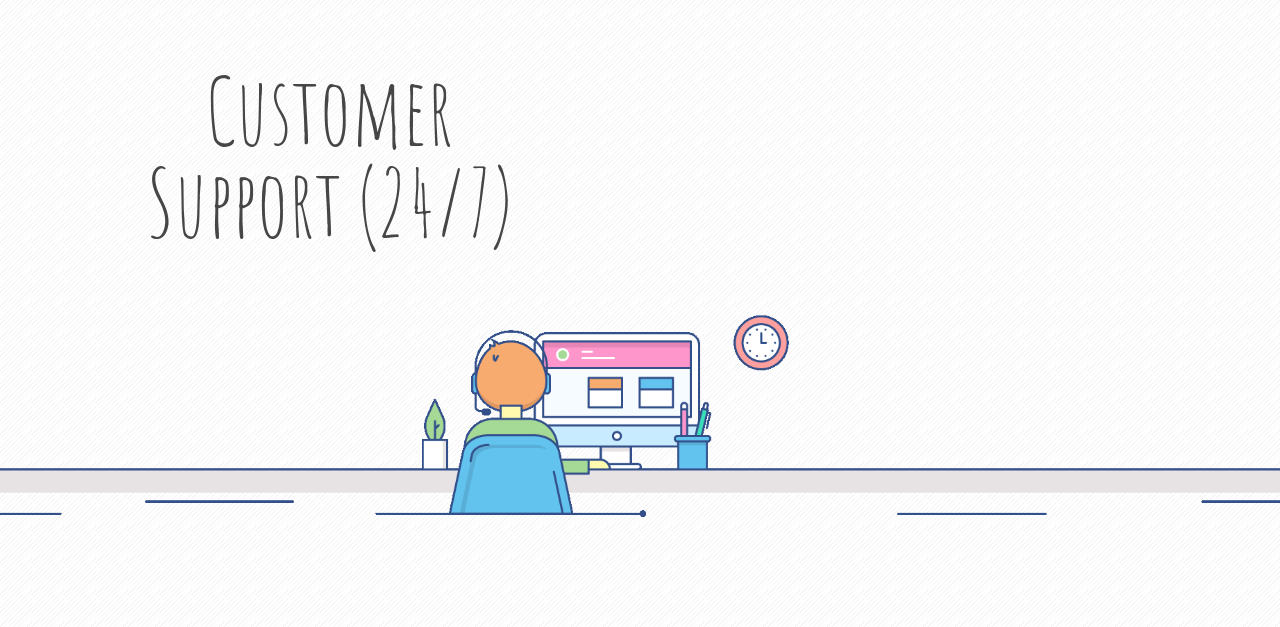 While good customer support is not as important as hardware performance, and is one of the last things to factor in when choosing a web host, you should take this in your choosing formula. Customer Support is important and it speaks volumes about the company when they value their customers. At the end, we are humans who appreciate willingness to help, be tolerant, understanding and forthcoming.
2. Unmanaged Hosting
Unmanaged hosting is just what it say it is. Unmanaged web hosting.
It's usually completely stripped of all the software, so you get an absolutely fresh and clean start. Although some servers might have an OS pre installed on them together with a control panel, that is rarely so.
It is completely up to you to tweak a server however you want, obviously requiring technical expertise on your part. A poorly managed server can result in a disaster. In case you're not a tech savvy person, learning everything from scratch and maintaining the server may end up occupying all of your time, so instead of focusing on developing your website, its content and building visibility, you'll be focusing on just plain keeping your website up and running.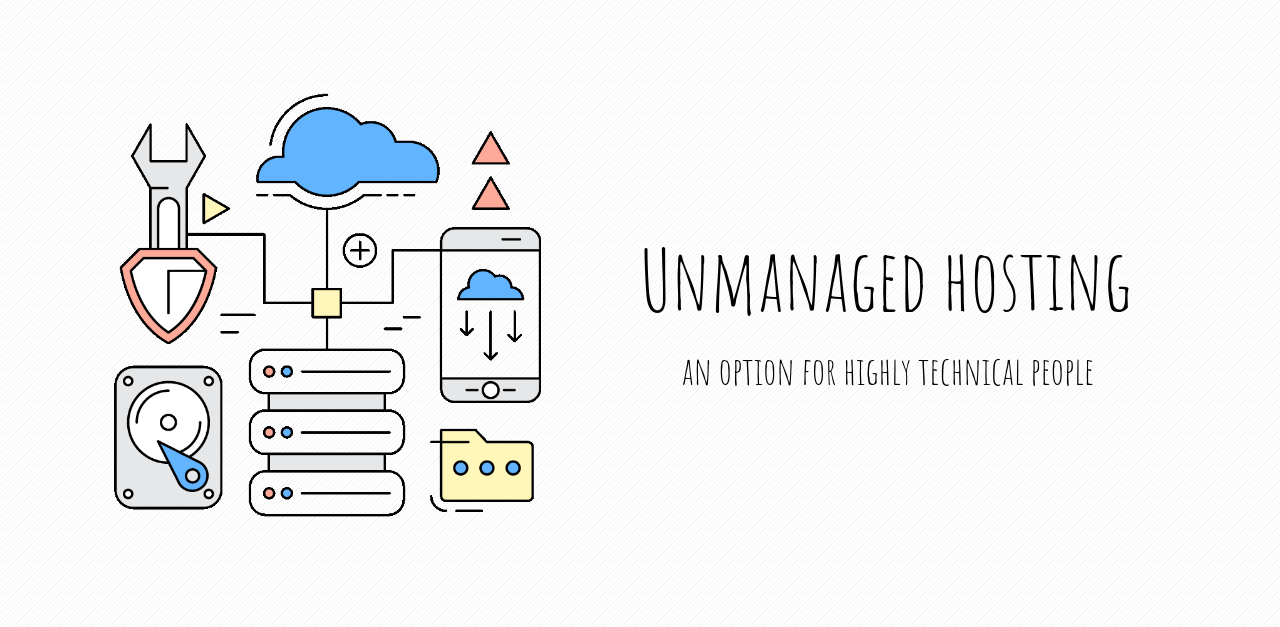 Now, you might wonder, why would anyone ever opt for unmanaged hosting if that is the case?
Some websites might need specific software run for them or be customized in a way that managed hosting simply doesn't allow. Unmanaged hosting provides freedom and flexibility to do so. Plus, let's be real for a moment here — it costs a lot less.
It's typically an option for highly technical people, or tech enthusiasts who get a kick out of learning and doing everything themselves. However, it is best for businesses that have their own IT department or at least a person who is skilled to do it.
To sum it up, Managed hosting is for you if:
– you're not a technical person
– you don't want to hassle with software installation, security measures and your website doesn't need any special software.
Unmanaged hosting is for you if:
– you're a technical person or someone who'd like to learn how to administer a server
– your website needs to be built a certain way and run rare software.
About author:
Mari Koval is a content writer at WebHostingGeeks.com. She has written for various online publications and blogs. With an equal passion for both technology and educating people, she strives to produce content that is informative yet easy to understand.