Anyone who has ever built anything, be it a house, a LEGO castle or a website, will almost automatically tell you: "Before doing anything, focus on building a solid foundation for your project!"
Foundation to projects is what feet are to people – If you had no feet, your legs would be useless. No matter how bulk they are, you wouldn't be able to stand or walk anywhere.
All structural problems come from a bad foundation. Cracks on the walls, swinging doors, uneven floor, jammed windows – these are all foundation related issues.
When you really sit and think about it, in a way, our website is basically our home. We spend most of our day on it, we invest a lot of our time, money and energy in making it nice and tidy for people who come to visit, and we're always trying to make it a reflection of who we are, what we're all about and how we want people to see us.
Being our digital home, we need to build a solid foundation for it, if we don't want to see it go down in ruin. It doesn't matter how much money you spend on design, or how great your UI is, if your website isn't secure or hosted on a proper server, you're basically waiting for it to go under!
When it comes to investing in your website, next to great content , good hosting service, should probably be on the very top of your list. Without it, your website cannot performer on a desired level.
So, How do I Choose a Good Hosting Service?
First you need to figure out what you actually need.
What kind of website will you be hosting? Webshop? Blog? Online magazine? Company website? Info portal?
This is critical for which CMS system you will choose. In case you're not familiar with the term, CMS is your backbone – its the "software" you install on your server.
A content management system (CMS) is a computer application that allows publishing, editing and modifying content, organizing, deleting as well as maintenance from a central interface.Such systems of content management provide procedures to manage workflow in a collaborative environment.
Think of it as a platform that you can build on. Each CMS system is a different kind of platform and thus, it will help you create different things.
What Are The Main Factors I Should Focus On When Choosing a Hosting Company?
1. How long is the contract? Is there a money back guarantee?
2. How is their customer support? 24/7 Chat and true support is mandatory for a good host. Don't settle for less.
3. How good is their uptime? Have their servers had any breakdowns?
4. What specs do you get vs. what you pay? Some hosting companies just write "unlimited" for bandwidth but while this is in theory "true" they make up for this by giving you a bad server that runs really slowly.
5. What's their PR situation? Are they getting good or bad review all over the internet?
Is There a Web Hosting Company That Can Help Me With All Of This?
We at AltusHost have been providing quality Web Hosting services since 2008. Our main goal is to provide people with high quality managed web hosting services at the lowest possible rate and the highest customer satisfaction.
We focus on Quality more than Quantity. That's why all our customers can be assured that they're receiving one of the Best Value services on the market.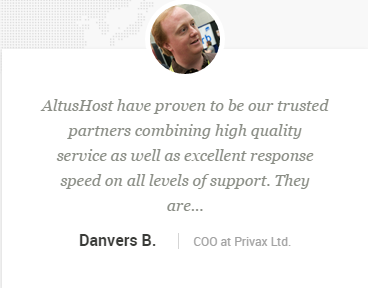 Why Choose Us?
Because, unlike most other hosting companies, we have our own Hardware and Network infrastructure, located in Amsterdam, Netherlands and Stockholm, Sweden. We do not rent or resell from a larger provider. No, we use our own Infrastructure.  The benefit of this is that we are in full control of all we use to deliver our hosting services.
Our Award Winning 24/7 Technical Support team sets us apart from other hosting companies and makes us the preferred choice of individuals and businesses worldwide. At AltusHost we do not make false promises. We take pride in everything we do and we assure you that the services we provide will be more than satisfying.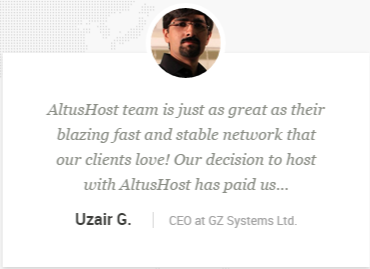 The point of our business isn't just to sell you our services. Our goal is to sell you services that will make you happy and satisfied, that will perfectly fit you and your needs. Our best attainable result is a client whose business grows right along with us.
Don't play with your website's health! Choose the right people for the job!
I hope that this blog post has provided answers to some of your questions. If we skipped some of them that are of great importance to you – feel free to write them in the comments sections below, and we'll get back to ASAP!