Doing smart business is all about making the right decisions at the right time. All entrepreneurs, no matter their experience, know how difficult running a business really is – there are numerous tasks to worry about, while making sure all employees are doing their part of the deal.
However, what most entrepreneurs don't realize is that it's not necessary to have all that in mind, because there are many helpful pieces of software out there.
When our mind is unburdened, it's easier to come up with fresh ideas and innovative ways to make progress. This list consists of seven different tools that I'm sure you'll find most helpful.
Data Gathering – SurveyMonkey
Every entrepreneur, no matter what business field they are in, needs to communicate with the receiving end – their target audience. In order to create the perfect line of product or the perfect list of services, they need to know what their audience is after.
Gathering data is a very important step towards making significant progress, and probably the best way to do it is by creating surveys. With SurveyMonkey, you'll be able to conduct in-depth marketing research and find out where to move next – they have a very nice list of different types of surveys you should definitely look up. It's very simple to use and quite easy to customize their drafts according to your exact needs.
Furthermore, the information you gather here will help you engage your audience and ultimately raise your conversion rates.
Data Analyzing – Datapine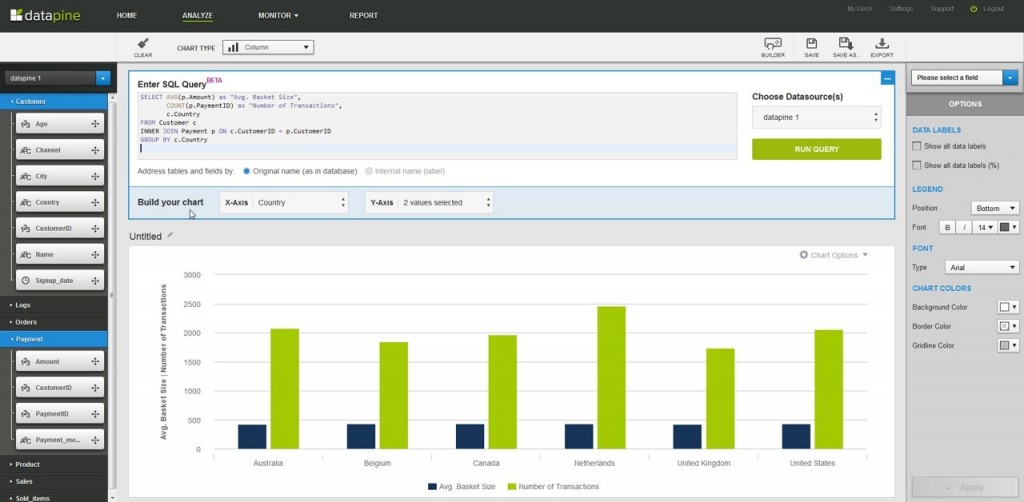 Gathering data is a start, but you'll find out that all that work is completely useless unless you're capable of analyzing it properly. Growth hacking is probably the most popular subject in the world of business right now, and everyone is trying to figure it out.
However, most people often mistake it for a simple shortcut, which it definitely isn't.
It's a shortcut – that part is true – but the road towards success needs to be cut the right way. One of those ways is smart data analytics and Datapine is a very handy tool that will help you see things clearly – it brings the sense of ease when creating graphs, charts and dashboards to a whole new level.
E-mail Management – Sanebox
The need for this tool is quite obvious – just think about how much time you spend trying to get your inbox in order on a daily basis. Face it, all that time can be put to good use.
So, you should outsource this task to a smart piece of software named Sanebox, which will do a simple, but very efficient filtering process and remove unnecessary messages that are cluttering up your e-mail. You'll be able to make your e-mail work again because of the unique features of this software. Like being able to snooze emails, for example.
Cloud Accounting – Wave
There's always a need for getting your payrolls and your accounting in general in order, and you should know that more and more people are turning to Wave to help them with these tasks.
This online platform offers a wide range of solutions for payroll, payments and accounting, and it currently tracks over $60 billion. Best of all – it's completely free for all freelancers, entrepreneurs and small business. This cloud platform provides its users with cash and an accrual based accounting services.
Bill Payment – Dash
When it comes to a more personal matter, this useful app might really come in handy. Dealing with cash and bills on daily basis – when paying for a lunch bill after you're done with a business meeting, for example – is time-consuming and every second counts.
With Dash, you'll be able to pay everything via your smartphone and without wasting any of your precious time. It works pretty well when it comes to impressing your business partners, as well.
Project Management – Basecamp
Words like projects and deadlines are the crucial part of every entrepreneurs' life and I bet you hear them numerous times, day after day. Well, there's a very neat and efficient way to organize everything on your plate and have clear insight into each action that's going on in your office, without even getting up from your desk – Basecamp.
Navigating it is very simple and all your employees will be able to use it after going through a quick tutorial. Everything on this platform is organized in "basecamps". You can leave comments and instructions, and each individual has their own "my assignments" card, so it's quite difficult to miss anything out.
Career Progress – Coursera
Speaking of your employees – if their career is stagnating, that actually means that they are moving backwards, because you can be sure that your competition is directing their resources into educating their team.
By using Coursera, you'll be able to create a team of versatile professionals without them even leaving your office – they offer a wide list of courses that will help your employees advance. There's a difference between specializations and courses on their website – specialization consists out of a number of courses – so you customize and direct your education according to your needs.
Once you start learning about various software that can help you improve your business, you'll see that there's a whole sea of them out there – you just need to find the right ones. The bottom line is that you can get help and unburden your mind so that you can devote it to developing fresh ideas.