Any good headline should spark curiosity and get the reader to click on a link, but the problem starts when people go out of their way to withhold information and use flamboyant phrasing to, let's be honest here, trick droves of people into opening a subpar article. Clickbait is just that, bait. It's like casting a big old web into the water and waiting for just about anything to get stuck in it.
When I click on something entitled "The Most Awesomely Amazing Life-Changing Secrets that Most People Get Wrong", I go into the article expecting a serious piece with lots of personal stories, mixed with studies, philosophical musings and quite a few resources. If all I get is 500-600 words crammed with of gems like "go out more" and "learn to say no" with a sentence or two on each point, I get very frustrated and disappointed.
And it's like this for most people. While clickbait may get you more traffic initially, over time, you will lose all credibility in your reader's eyes, and your conversion rates will suck. People will come, skim and bounce, and that's just bad business for blogs, news sites and e-commerce sites alike.
If you want to entice people to click and then have them stick around on your page for a few minutes, reading intently, subscribing, sharing your quality content and bookmarking your website, then you need to step up your title-writing game.
1. Stay Away From Topic/Title Generators
There are plenty of online tools that promise quick and effective title and topic ideas, but what they produce is mostly generic, overused and clickbait-ish. There are better ways of getting that initial creative spark going, and it's best to stay away from title generators.
2.  Scour The Web For Inspiration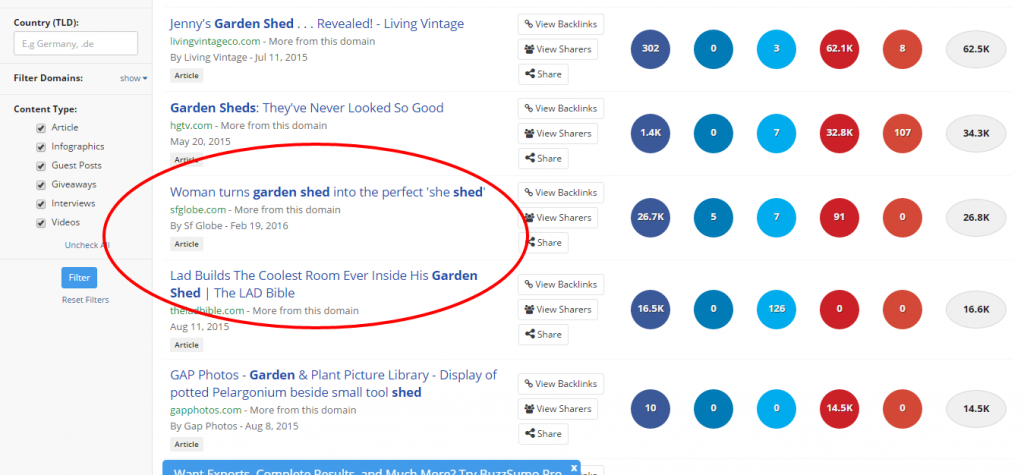 There are basically three ways you can go about finding inspiration for your next great blog title:
Websites like Buzzsumo can give you a good overview of popular topics across the web for any key phrase
Check out what the major publications in your niche have written about a specific topic
Use different key phrases and narrow or broaden the scope to get more variety
Let's say that you want to write about garden sheds. Buzzsumo will give you some interesting ideas to work off, e.g. it's all about DIY ideas on turning the shed into your own private little heaven, and both women and men are interested in this.
You could then check out some garden shed designs, man cave and lady cave ideas, DIY decorating how-tos, and so on.
3. Look For Weaknesses In The Existing Material
Sticking with the garden shed example, you might find that a lot of DIY lady cave examples have you turning the shed into a gardening fan heaven, maybe a few examples with a "leather chairs and whiskey bottles" vibe, but that very few articles play with the definition of a "lady cave". You don't see a lot of good gamer or nerdy lady cave conversions, so you might want to focus on this particular aspect.
Seeing as how ladies dominate Pinterest, you might want to throw in some high-quality images that can be repined.
4. Get To The Point And Create Curiosity
Because you want to keep your title fairly short, about 55-60 characters works best, you need to get the point across using very few words. Here are a few questions to get you there:
-What is it about?
-Who is it for?
-How does it help the reader?
-What makes it unique?
-Why is it totally awesome?
So, we've got nerdy lady caves, gamer girls, nerdy themes, garden shed conversions, quick and cost-effective solutions, beautiful and creative designs, etc.
5. Lists, How To's, Guides, Myth Busting, Mistakes And Colorful Words
Mold your basic idea to fit tried and true formats like lists, pointing out common mistakes and step-by-step guides. You can use enthusiastic phrases that create a sense of urgency or make things seem incredibly tempting:
-Must-Have
-Awesome
-Secrets
-Mistakes
-Wh- question words
-Insane
-The most
-Blow your mind
-Ingenious
With that in mind, you'd get something like "The 7 Nerdiest Gamer-Girl Garden Shed Conversions".
6. Let The Ideas Pour Out Of Your Head And Onto The Page
The trick is not to get dead set on perfecting a single title right off the bat – just let the ideas flow straight onto the page. It's like a brainstorming sessions where you quickly jot down a few phrases here and there, a couple of basic ideas, and then work from that. Mix and match the most alluring elements from all the different examples until you get 2-3, and then try them out on a few people to get some feedback.
You can use your mailing list to perform an A/B split test to find the most engaging of the final titles, if you are really going for high-end content and want to make the most out of it.
These are just a few ground rules to help you choose the right topics and make great headlines that pull people in, but you'll also have to put some work into creating informative and engaging content, and promoting that content on social media. It takes a bit of time to get a hang of it, but practice makes perfect.