Getting your business online is essential if you want to be successful in today's highly digitalized business world. Regardless of the area that you are involved in, whether you are a start-up, small business or a corporate giant, it is crucial that you have an active part in the online wilderness.
Having an established online presence is the new way to attract potential customers from any part of the world, build lasting relationships with clients and show your business' concept and full potential.
The way that all of the magic is achieved is mainly — through content.
In all its diverse forms, content is and remains to be the king that it has proven its dominance and importance for businesses worldwide.
For this reason, it is very important for businesses to create and spread their content in the most comfortable, easy, and quick way, without limitations and difficult interfaces to understand. This is where the Content Management Systems come in place.
Content Management Systems
The Content Management System, also known as CMS, is where your content basically lives.
It is a platform with the purpose to create, manage, and publish web content related to your business, products, services, or anything else that may tempt more visitors to your website and help you increase the visibility of your business online. And of course, rank higher in search engines search results.
Using your selected CMS you can upload content for a blog, website information, e-commerce site or other corporate data that you may need.
Content Management systems have developed in providing options for linking together with other platforms to create a unified online presence but they can  also be used independently for blogging purposes.
Content Management Systems come in a range of options and offer diversity, depending on the specific needs of your business.
While WordPress is one of the most popular systems used by online businesses, there are a range of alternatives, which you may find easier to use and more suitable for your specific needs.
Bear in mind: Web hosting of your website is the main pillar of your online presence. If you choose the option to have a website without the option to transfer it to a reputable web hosting provider, alert, alert! Inform yourself before you try to make a financial and time investment :
– is it posible to register and redirect a relevant domain name with the CMS you have in mind
– can you have a Shared Hosting, VPS or Dedicated Server hosting on a certain free CMS alternatives to WordPress
Drupal
Although a bit more complex than WordPress, Drupal is also a CMS platform widely used among online businesses and has its advantages and individual functionalities. It may be more difficult to use but can make users' lives easier by providing more functionality options. Access to more features can be beneficial but may also require more learning time to get used to the platform.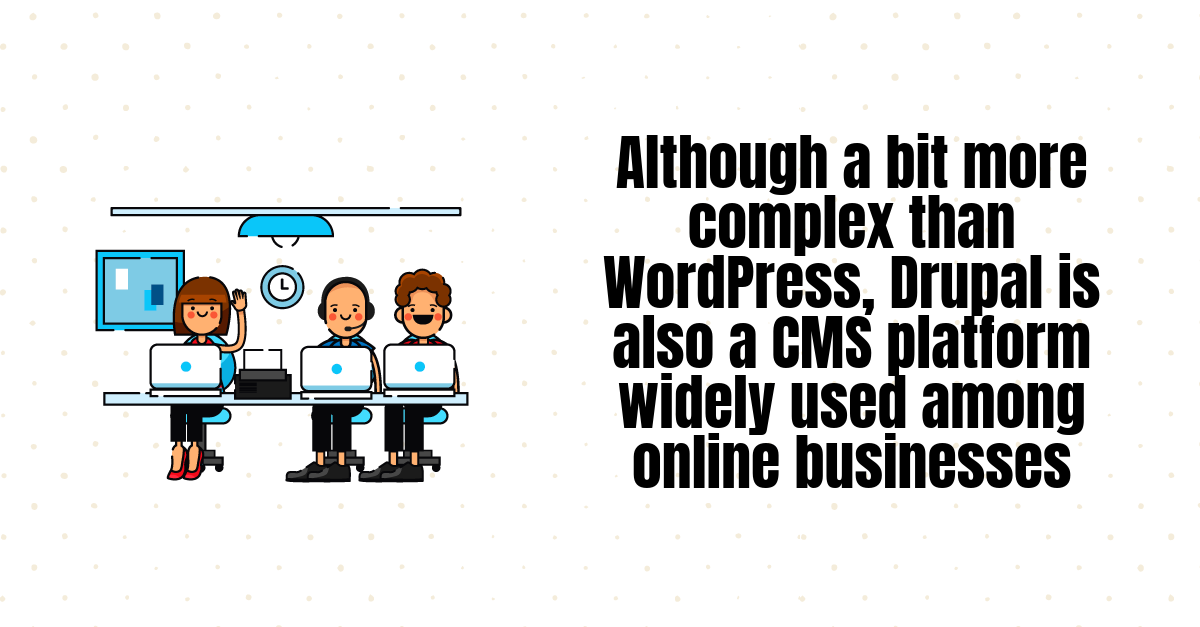 Some of the advantages of Drupal include:
1. Available directly form Softaculous library and your cPanel with AltusHost business web hosting
2. Granular user management
3. Ability to manage different content types
4. Quick access to fixing tools and other resources
5. Ideal for users with experience in web development and CMS in general
6. Extensive range of themes and plugins to use (called modules in Drupal)
7. Ability to handle a large quantity of content and complex projects
8. More advanced user permissions, including site admins, content editors, tailored access to private content, if required
Kentico
Kentico is known as an integrated marketing solution that is quality alternative to WordPress for online businesses looking to manage their content and grow their online visibility.
The platform allows its users to manage a range of diverse website types and its main advantage is that it is an all-in-one content management system, meaning that you won't experience the need to look elsewhere for additional features.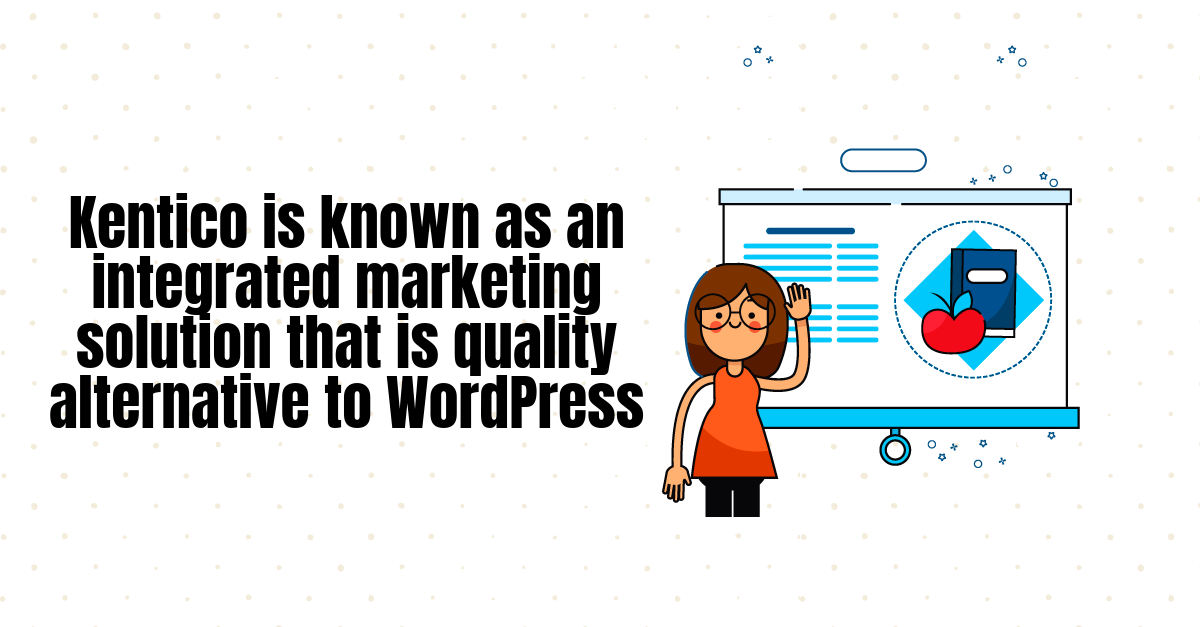 Popular for its creative features, Kentico has a few advantages over WordPress:
1. Less time-consuming when it comes to creating big, enterprise-level websites
2. Content management is more quick and simple
3. Easier editing due to a unified administrative area to work in
4. Faster page loading speed as a result of less code loading
The platform has a number of other characteristics, such as the opportunity to create custom pages, which can be saved for later, a multi-site management option, allowing a number of sites to exchange or share content and a WYSIWYG Editor, which is an essential tool for users who are not experienced developers. Using this feature, users can easily make changes to images, headers and copy without the need to dig into HTML coding.
Squarespace
Squarespace is a Content Management System that is excellent for users who are interested in managing a blog, an eCommerce site, a business portfolio or website.
Created with a focus on user-friendliness, Squarespace is very easy to use and gives its users access to a range of pre-made and ready to use templates you can choose.
In addition to that, it is easy to synchronize your social media presence with your content via connection options available on the platform.
Various business apps can also be linked to the platform, making the lives of business owners easier.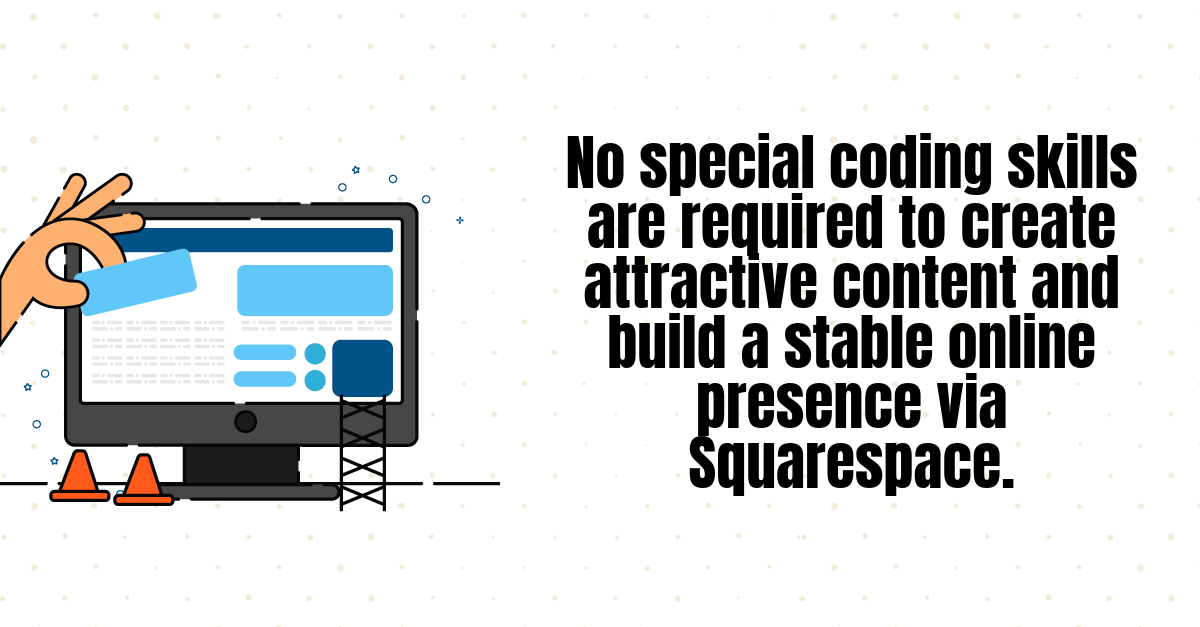 The platform is ideal for small online stores but may have its limitations if you are running a gigantic e-commerce shop.
No special coding skills are required to create attractive content and build a stable online presence via Squarespace.
Now, a huge BUT.
Okay, Squarespace may be cool, but it does not give you the oppurtunity to have a web hosting apart form Squarespace servers. So, if you ever want to swith to a reliable web host, you will be faced with a lot of tiring dificulties  with that endevour.
Nevertheless, let's list some of the main advantages of the platform:
1. Unlimited storage space
2. More than 500 available templates to choose from
3. A large pool of integration opportunities such as social channels, design and eCommerce functionality
4. Can sync with Apple Podcasts and manage podcast uploads
5. Mobile-friendly websites – in 2018, you just can't afford to neglect the importance of mobile friendliness
6. Available options to upgrade to a custom domain name with SSL/HTTPs
Choosing the right Content Management System of your business will depend on a range of factors, including your ultimate goal, type of content you would like to manage, business sphere and even the level of expertise of your employees. There are a number of other alternatives to WordPress that are available on the market. The list above simply outlines three options that may be useful in reviewing the best CMS for your business.
About the author: Donna Moores is a successful blogger and CMO at Handmade Writing. She has gained an outstanding marketing experience within the biggest industries and businesses, which she pleasantly shares with the readers. You may reach out to Donna on Twitter or LinkedIn.
BR,